Calhoun's Eric Mack hurt in shooting that kills 3, including 2 ex-Auburn football players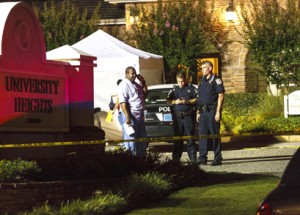 AUBURN, Ala. — Investigators were searching for a gunman who killed three people — including two former Auburn University football players — and wounded three others at a pool party near campus after several men began punching each other in a fight over a woman, authorities and witnesses said Sunday.
One of the wounded was shot in the head and critically hurt. Another was current player Eric Mack, a junior offensive lineman from St. Matthews, S.C. He played in five games last season. Coach Gene Chizik said Mack was expected to make a full recovery.
Mack tweeted at 6:15 a.m. Sunday, "Im good though just wish I could of saved my two homies."
Desmonte Leonard opened fire at the party at an apartment complex near the university, Auburn Police Chief Tommy Dawson said. Federal marshals and police were searching for Leonard, who faces three counts of capital murder.
Slain were Edward Christian, who had not been playing because of a back injury, and Ladarious Phillips, who had previously quit playing football. The other person killed was 20-year-old Demario Pitts.
Officials also said Xavier Moss and John Robertson were wounded. Robertson had been shot in the head and was in critical condition; Moss was released from the hospital.
"The only connection that the Auburn football team has to this is they are victims of a brutal shooting. Sometimes the young men get a bad rap, I feel like, but they are the victims today," Dawson said.
Police say Desmonte Leonard has been charged with capital murder and has not yet been captured. Dawson urged Leonard to turn himself in and also said authorities were searching for two other persons of interest.
Dawson stressed that the football team was connected to the shooting only because current and former players were victims. He said he did not know why the party was being held, or what sparked the fight.
"Them being football players really has nothing to do with this. They're victims of a shooting," Dawson said.
Turquorius Vines, 23, said he was at the pool party Saturday evening at the University Heights apartments with one of his friend, Pitts. He said he and his friend were approached by two other men who started arguing with them over a woman.
Vines said he punched one of the men, while Pitts hit both of the men over the head with a bottle. Either one or both of the two men then started shooting, he said. He said his friend was shot and killed, while two others also were hit by gunfire. Vines said he had never before seen the men who he had been arguing with.
"It's like I lost a lung," Vines said of his friend. "I don't know how I'm going to survive this."
Several emergency vehicles had converged overnight around the University Heights apartment complex where reports indicated a number of students who attend Auburn University typically reside. The building was swathed in yellow police tape.
It appeared that the shooting happened in an archway near the apartment complex information center, near the edge of the parking lot. Five uniformed officers guarded the area, which was sealed off with crime scene tape, and a handful of crime scene investigators were at work.
Christian is an offensive lineman who was out last season while dealing with a back injury. Phillips was a backup fullback. Chizik said in April that Phillips had decided to give up football.
A person who answered the phone at the home of Phillips' mother declined comment and said his family was too distraught to comment.
"Nobody should ever have to endure such unimaginable grief, and we will love and support the victims' families during this terribly difficult time," Chizik said. "We have a lot of people on our football team that are hurting right now and we're going to do everything we can to help them get through this."
The Auburn Plainsman, the campus newspaper from Auburn University, reported early on that that Christian and Phillips had died while Mack was wounded by a gunshot.
Mack initially was believed to have been in critical condition, though that now appears never to have the case.
According to an email report to The Times and Democrat, the Plainsman encountered difficulty in reporting on the incident. Twitter suspended the account @auburnplainsman as of 2:30am CDT after news regarding the deaths was tweeted.
"As your site (TheTandD.com) was among the first to break this news, based on the @auburnplainsman feed, I think you should know this," the writer said. "I would like to see a nod to freedom of speech if possible."
During the night, Vasha Hunt, a photographer with the Opelika-Auburn News, was at the apartment complex and told AP by telephone that authorities had erected a white tent there. But he said police kept numerous bystanders far back early Sunday while they investigated amid a falling rain.
Police stood back behind yellow crime tape.
Hunt said many of those who initially gathered outside appeared to be people waiting to enter the apartments. Police also set up large lights around the scene and about a dozen police cars, ambulances and other emergency vehicles were photographed around the blocked-off entrance.